NEW WINE YEAST STRAINS
SafŒno™ SH 12 – Strongly reveals thiols in whites and rosés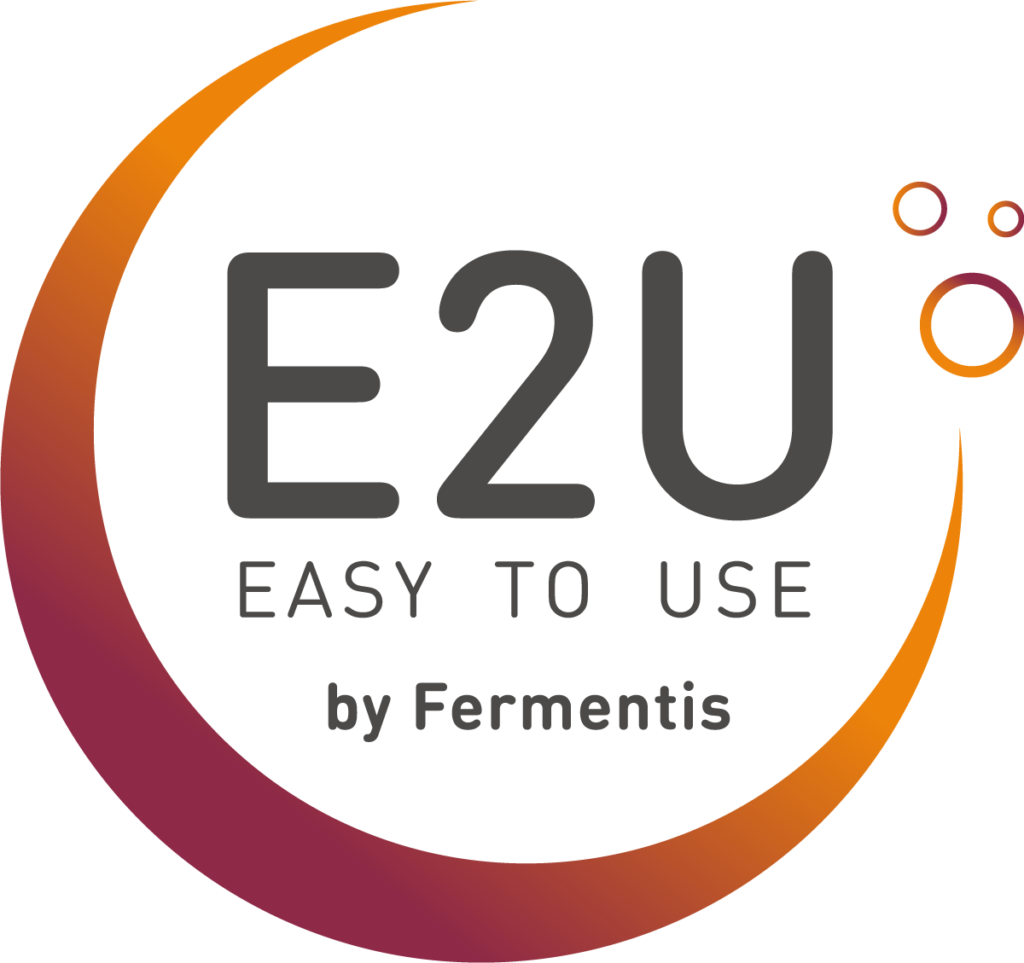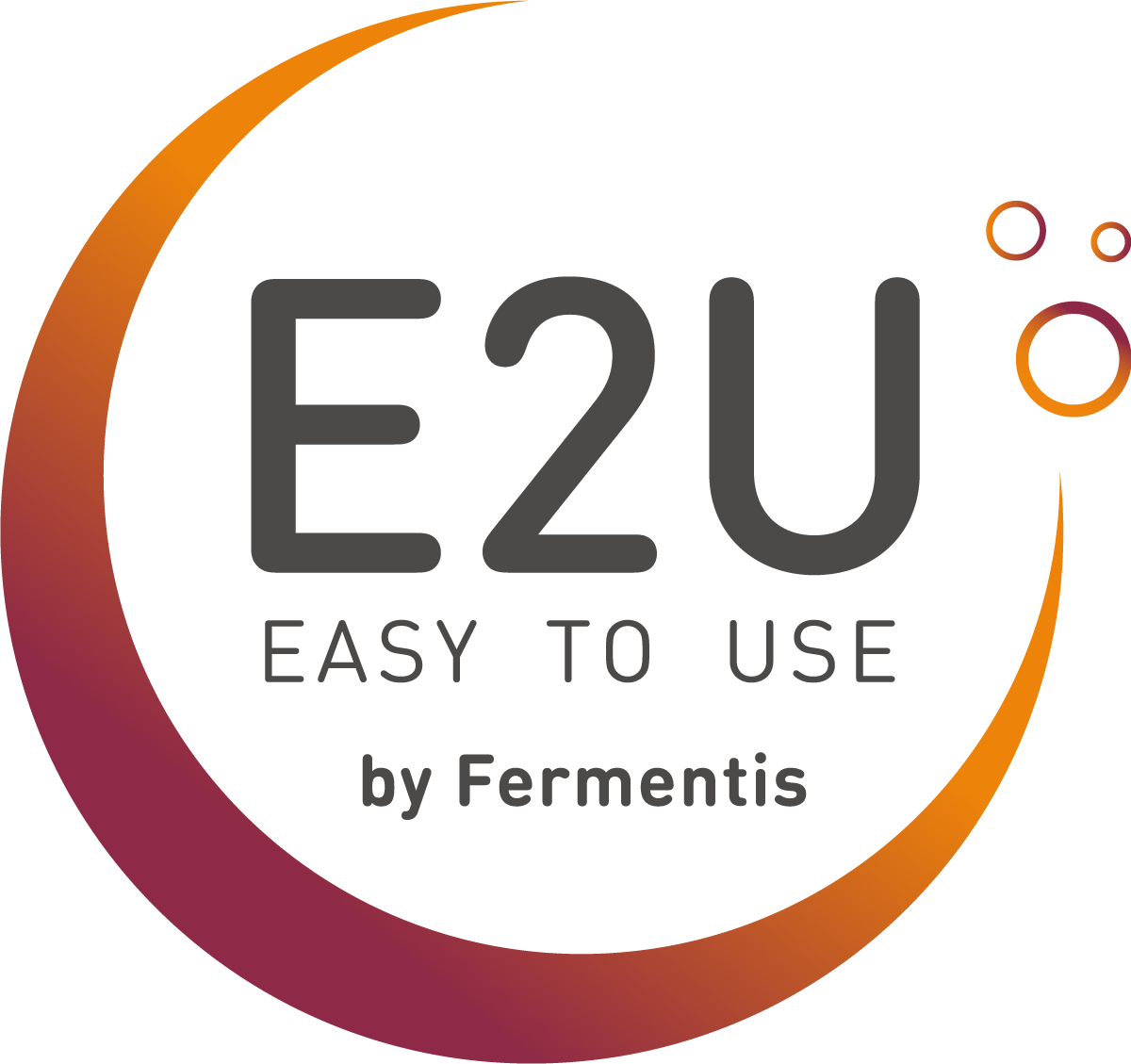 Our first new wine yeast strain of 2020 is SafŒno™ SH 12, a new addition to our range, designed to reveal thiols in white and rosé wines. Thiols are what give some wines distinctive citrus-tropical fruity and green flavours, like grapefruit, passion fruits and blackcurrant buds or boxtree.
On par with our most recent launches, SafŒno™ SH 12 performs very well in many conditions and respects our Easy-To-Use (E2U™) standard meaning it can be pitched straight into the must without prior rehydration..
Watch SafŒno™ SH 12 introduction video:
SafŒno™ SH 12 is particularly efficient at releasing volatile thiols from precursors present in certain varieties such as Sauvignon Blanc or Colombard, and especially molecules of 4MMP, which give off green and vegetal flavours such as boxtree or blackcurrant buds.This strain also releases molecules of 3MH (grapefruit notes) and converts them well during fermentation into their acetate ester: 3MHA (passion fruit notes).
SafŒno™ SH 12 maintains high acidity levels, which translates into a fresh and crispy feeling in mouth.
Good fermentation performances
Regarding fermentation performances, SafŒno™ SH 12 is a yeast strain which resists very well to most of whites and rosés' more difficult fermentation conditions, with regular-fast kinetics in a wide range of temperatures and low nutrient needs overall.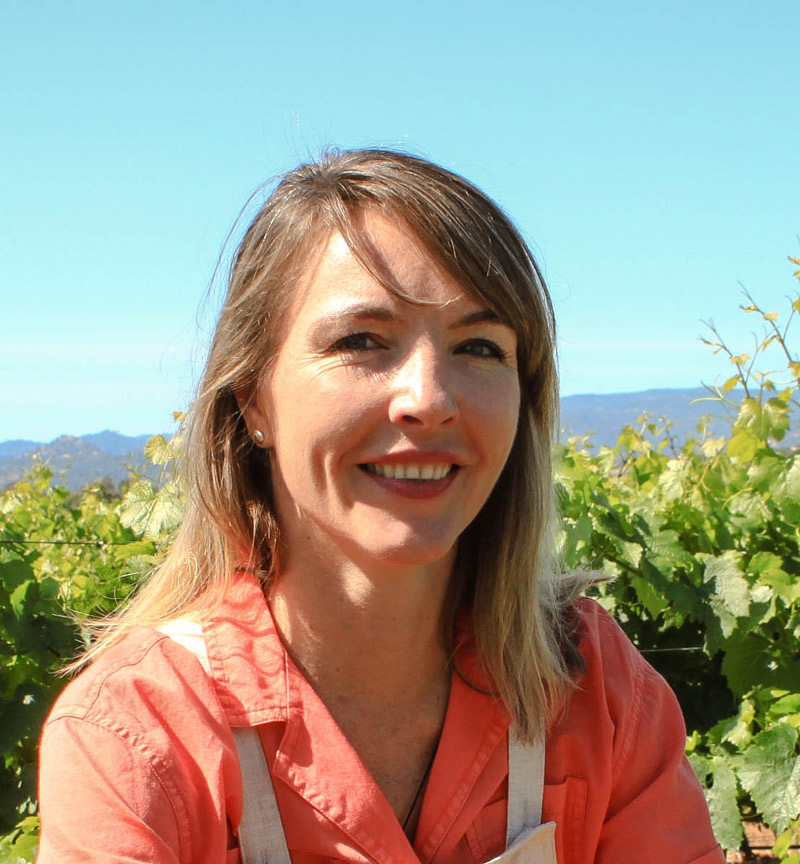 Nicole Salengo
Berryessa Gap Vineyards
What the users think With Nicole Salengo, winemaker at Berryessa Gap Vineyards, California, USA
"The kinetics that are important to me are that the yeast doesn't foam/flocculate, that it has a predictable fermentation curve and most importantly finished the fermentation with the wine dry, this yeast certainly did all of this. Analysis was similar to other Sauvignon Blanc yeasts I use which is great. The brix to alcohol conversion is very important to me and I'm glad it was consistent with other products I use.
Sensory – this is the most important aspect of wine, is it not? And this is where the SH 12 impressed me most. The best thing about the yeast is what it did to the mouthfeel of the wine, it really added weight to the palate which is a beautiful attribute. I found that this yeast mellowed and integrated the acid profile nicely and created a richness and finish other yeasts do not. This was the most impressive thing I observed from using this yeast."
Read the full review
SafŒno™ PR 106 – For premium closed-tank sparkling wines
Our second addition to the range, SafŒno™ PR 106 was carefully selected and tested for the production of sparkling wines elaborated through the closed-tank method such as premium Prosecco.
Releasing intense fruity and floral aromas, whilst also giving a pleasant roundness to the wine without hiding acidity feeling, this yeast strain is ideal for premium sparkling base wines.
SafŒno™ PR 106 also performs very well in many conditions and respects our Easy-To-Use (E2U™) standard meaning it can be pitched straight into the must without prior rehydration.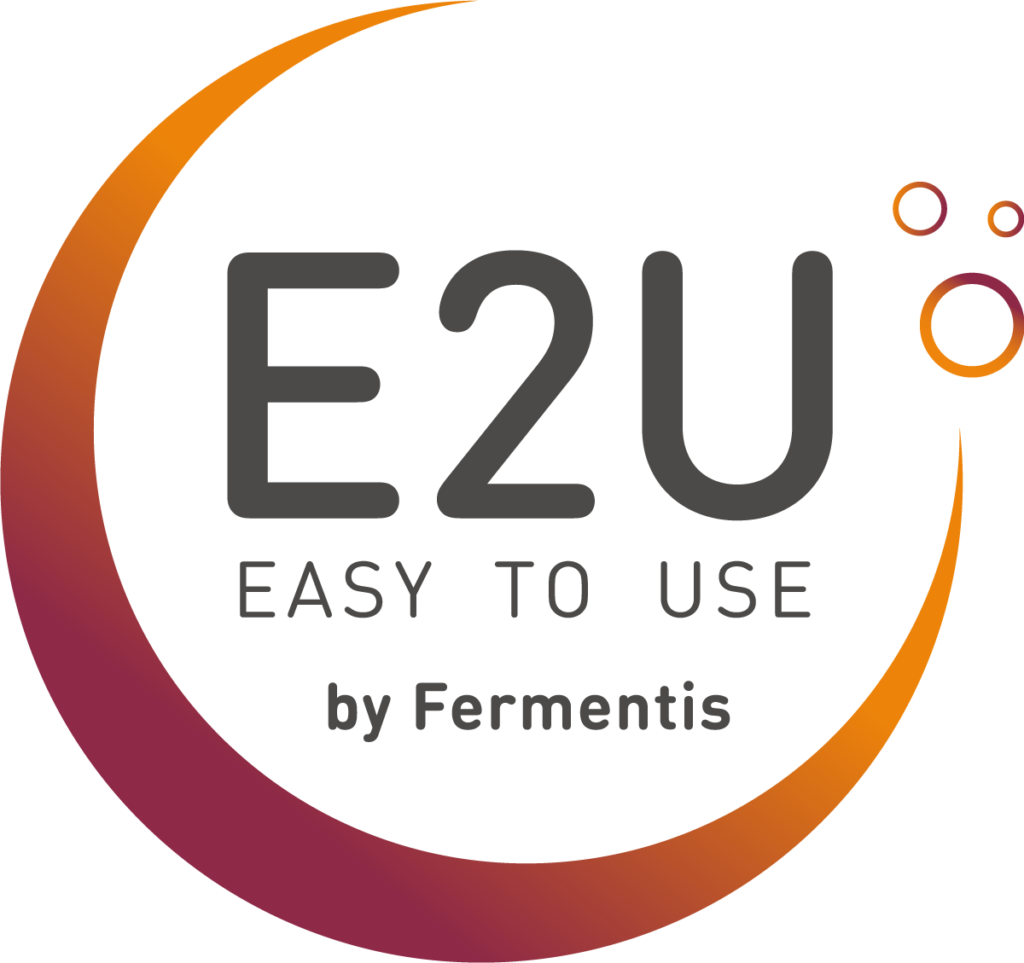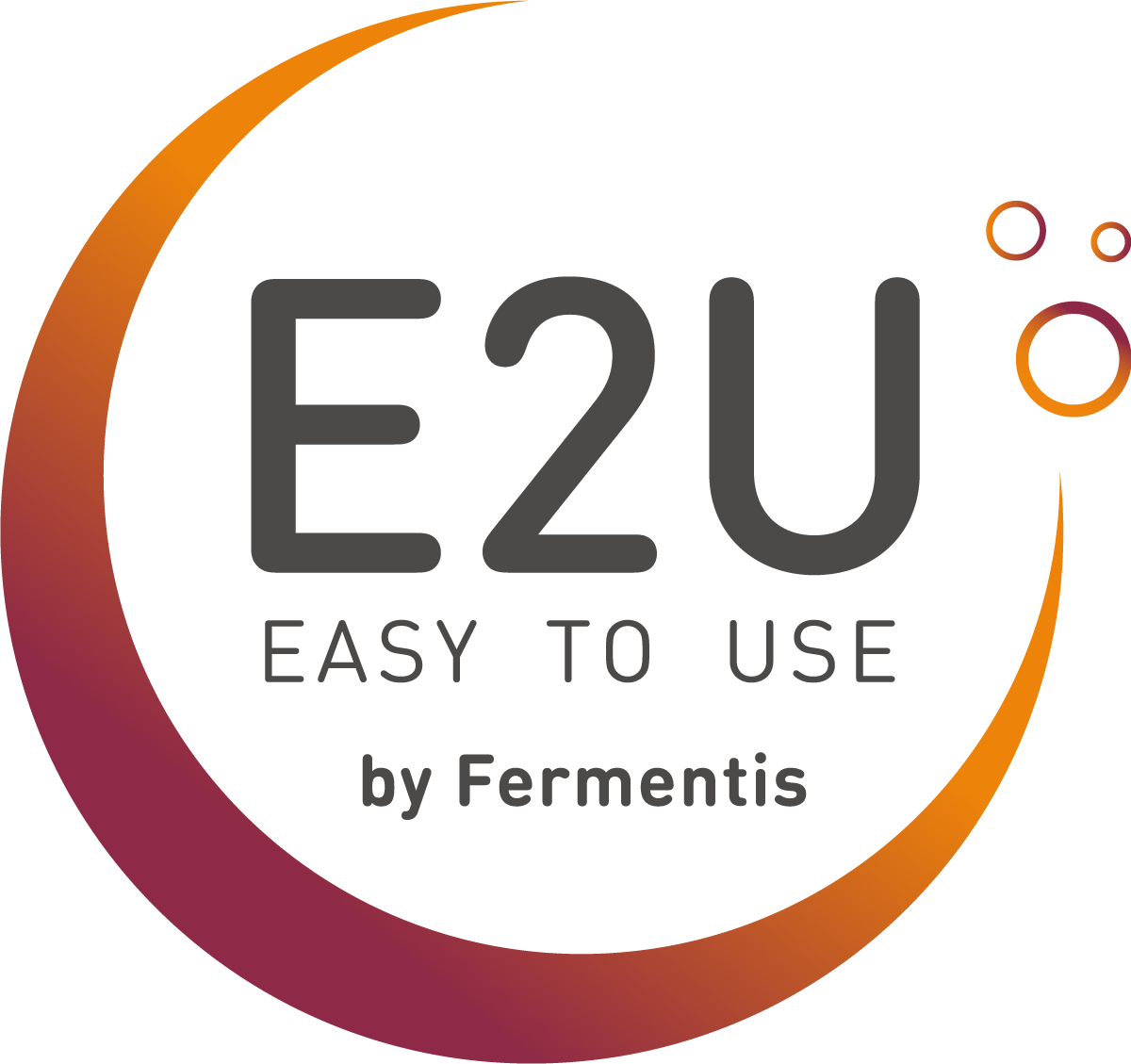 Watch SafŒno™ PR 106 introduction video:
Intense, complex fruity & floral aromas
SafŒno™ PR 106 was selected for its intense and complex fruity and floral flavours brought by a high production of higher alcohols and esters.Ethyl esters bring complexity whereas acetate esters help reduce potential green notes which could come from early harvested grapes, intended to keep some acidity for sparkling wines.
Fresh & persistent mouthfeel
SafŒno™ PR 106 is eating some malic acid in fermentation and brings some sweetness to base wines but keeps a nice acidity and a fresh balance in mouth supported by its high aromatic persistence.
Regarding fermentation performances, SafŒno™ PR 106 is a strong yeast strain, resistant to high SO2 levels, with fast kinetics in a range of temperature adapted for base wine fermentation and prise de mousse processes (10-18°C) and with low nutrient requirements.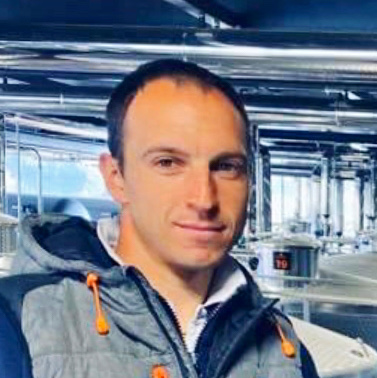 Vlady Bortolin
Colesel Spumanti
What the users think With Vlady Bortolin, winemaker at Colesel Spumanti, Italy
"The final result is in line with our quality standards and the characteristics present in the bases are excellent. The aromatic bouquet obtained with this yeast is very fresh and clean; it respects the genome of the vine and highlights it. No exaggerated or unsuitable aromatic traces are present or have developed. This is a fundamental characteristic for me to highlight the different CRU. The bases still present in the cellar are beautifully toned, the aromas are still persistent, clean and fresh. Is it better? In my opinion, yes, the products obtained are not standardised and uniform, but they reflect and therefore respect the characteristics of the different territories and origins."
Read the full review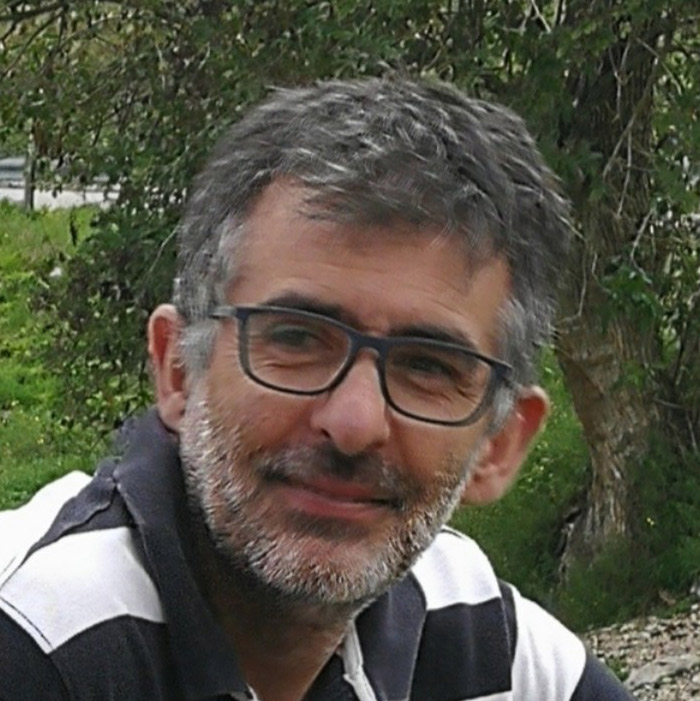 Andrea Artico
Borgo Molino
What the users think With Andrea Artico, winemaker at Borgo Molino, Italy
"Fast and regular fermentative kinetics, it followed the starting matrix with the right acidity , intense, wide and fine aromatics, elegant balance. The product is in line with our best standards"
When we first started our trials with organic molasses and other organic intrants for our yeast propagation, we had no formal guarantees that the resulting yeast produced would be close to our standard range.
Differences in the way we produce our yeast can always affect performance of the product, so to make sure our organic SafŒno™ VR 44 BIO yeast was performing at the same high standards you've come to expect from Fermentis products, we carried out extensive comparison tests between both conventional and organic VR 44.How did we compare the two products?
One of the most important criteria to measure is of course cell viability: is the viability of the yeast produced through an organic certified process the same as in our conventional product?
We also performed our standard yeast accelerated ageing test to make sure in time, the organic version would age in a similar way to the standard product.
Last but not least we checked yeast kinetics and compared the two products to see how fermentation performance was affected.
Of course, we were expecting a degree of difference between the two and we had already determined the extent of difference we could accept. The results we got were extremely positive and we will share them with you.
Yeast viability test results
To test the viability of SafŒno™ VR 44 BIO compared to SafŒno™ VR 44, we held trials in a series of different conditions, changing the temperature, media and agitation.
All the results were very positive, there were significant differences in cell viability considering the accuracy of the method (+/- 1%) but never more than 8% between both products in the same conditions (3% in average) and all viabilities remained  high: between 80 and 90%. The graphs above show just a few extracts of the full study, in different media and at different temperatures.
Fermentation kinetics results
When we compare fermentation kinetics at 15°C on OIV synthetic medium (230g/L sugars – 13.5% potential ABV, Yeast Available Nitrogen adjusted to 185 mg/L, initial total SO2 at 50 mg/L), we notice a clear difference in the fermentation speed and general fermentation dynamics. SafŒno™ VR 44 BIO takes a little longer to start off and is always a little bit slower than the standard version.
However, the most important information is that the organic yeast always reaches the end of fermentation, albeit with a few days more (< 5) than the standard yeast strain and even after 2 years forced ageing.
The graph shows only two conditions of our full study using our active dry yeast strains before and after 2 years simulated forced ageing, both rehydrated in water at 37°C and pitched at 20g/hL. The delay of SafŒno™ VR 44 BIO is clearly illustrated and we also observe a bigger impact of the ageing (reverse than expected in this case!), but it is clear that both products are really stable and fermentation will be achieved one way or another without real changes in the wine final analytical profile (data not shown).
SpringCell™: Conventional vs Organic (BIO)
SpringCell™ yeast hulls are high performing fermentation aids that act efficiently against stuck & sluggish fermentation. They help act on the long term yeast viability thanks to their must detoxification properties and the supply in survival factors for the new yeast generations. They also bring insoluble support elements that help maintain fermentation activity.SpringCell™ BIO yeast hulls are issued from Saccharomyces cerevisiae yeasts specifically grown on organic certified substrate and processed accordingly to keep an organic certification.
Decanoic acid is one of the greatest yeast growth inhibitors.One of the effects of SpringCell™ is to adsorb this decanoic acid, making the environment much more favorable for yeast cell reproduction and fermentation efficiency.
SpringCell™ BIO yeast hulls have identical adsorption capacities when compared to the conventional SpringCell™, meaning they are both extremely efficient at improving the environment for yeast to develop.Sensory studies (not included) also revealed there was no significant difference in terms of organoleptic impact between both products.
What is ViniLiquid™ and why should you use it?
ViniLiquid™ is still today a highly innovative fermentation activator, developed by Fermentis in order to optimize fermentation performance, especially in the case of poor in nutrient musts. It is a highly degraded autolyzed yeast offering the advantages of both soluble yeast intracellular content and insoluble yeast hulls.
ViniLiquid™'s unique composition helps you improve and secure fermentation thanks to:
Its strong supply of essential amino acids drastically increasing YAN (Yeast Available Nitrogen) level,
Its supply in growth and survival factors
Its detoxification properties and support effect
Its unique liquid formulation makes it easily and directly dispersible into the must, pumpable and safe (no yeast powder inhalation risks). As such, it was our first Easy To Use (E2U™) yeast derivative!
Fermentation improvement using ViniLiquid™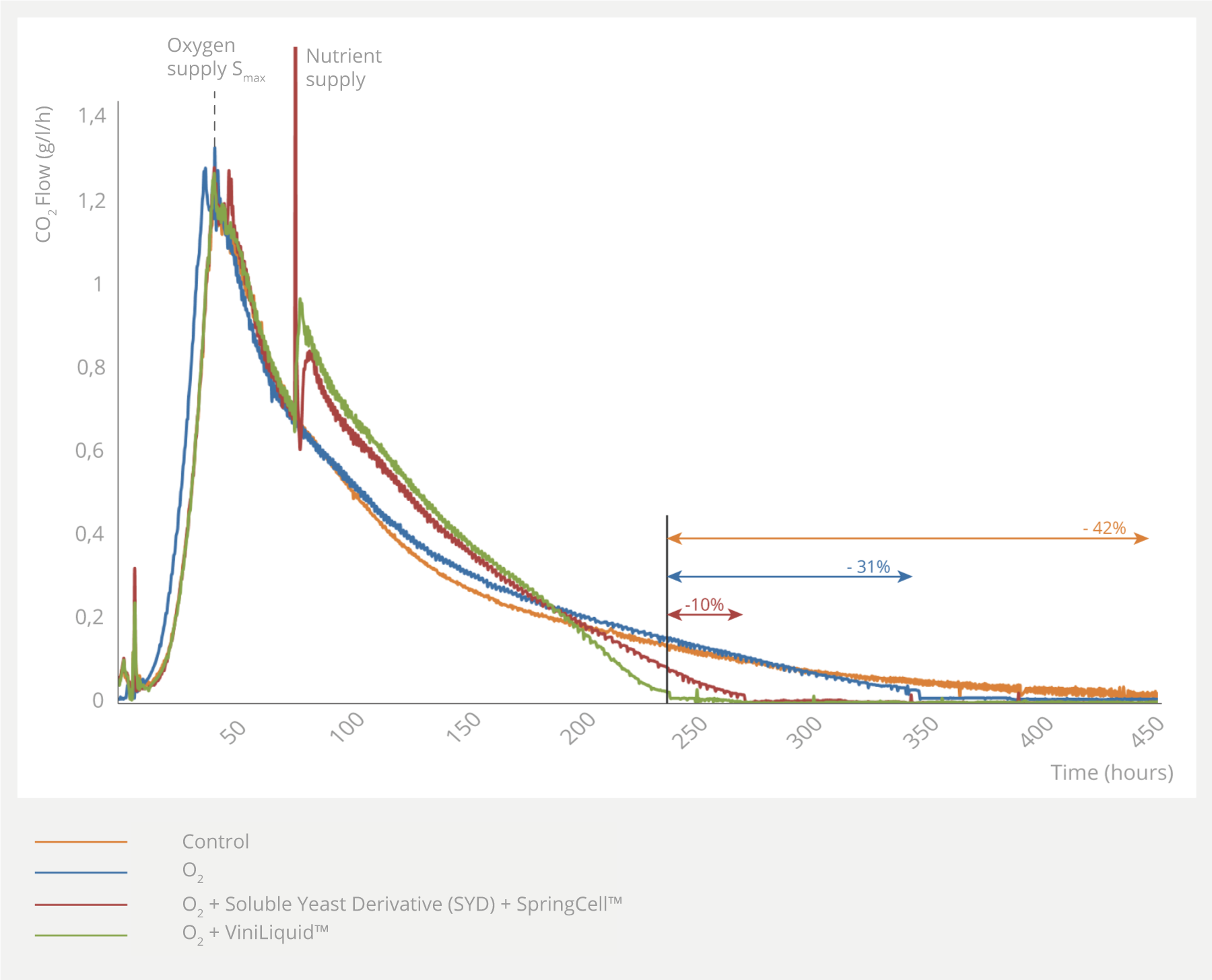 Fermentation times using different activators
Chardonnay must (Potential ABV: 12.5%, pH 3.4 and initial YAN: 188mg/L).
Addition of 10mg/l of O2 at maximum fermentation speed (Smax) then equivalent supply of 20mg/l of YAN and 13.4g/hl of hulls through ViniLiquid™ single addition or mix of soluble yeast derivative and SpringCell™ yeast hulls addition at 1/3rd of the fermentation advancement. Yeast used: SafŒno™ CK S102.
Whilst the addition of O2 alone (blue line) definitely decreases fermentation time, it is clear that adding a mix  of yeast derivative and SpringCell™ (red line) is a lot more efficient.
But undoubtably, the most efficient way to speed up and secure fermentation is through the addition of O2 and ViniLiquid™, which can decrease fermentation time by up to 42% when compared to the control fermentation.
There are strong synergistical effects between O2 and ViniLiquid™ together. However these results show that ViniLiquid™ is more powerful than a dry yeast autolysate with a similar composition, thus reinforcing the point of leaving it liquid.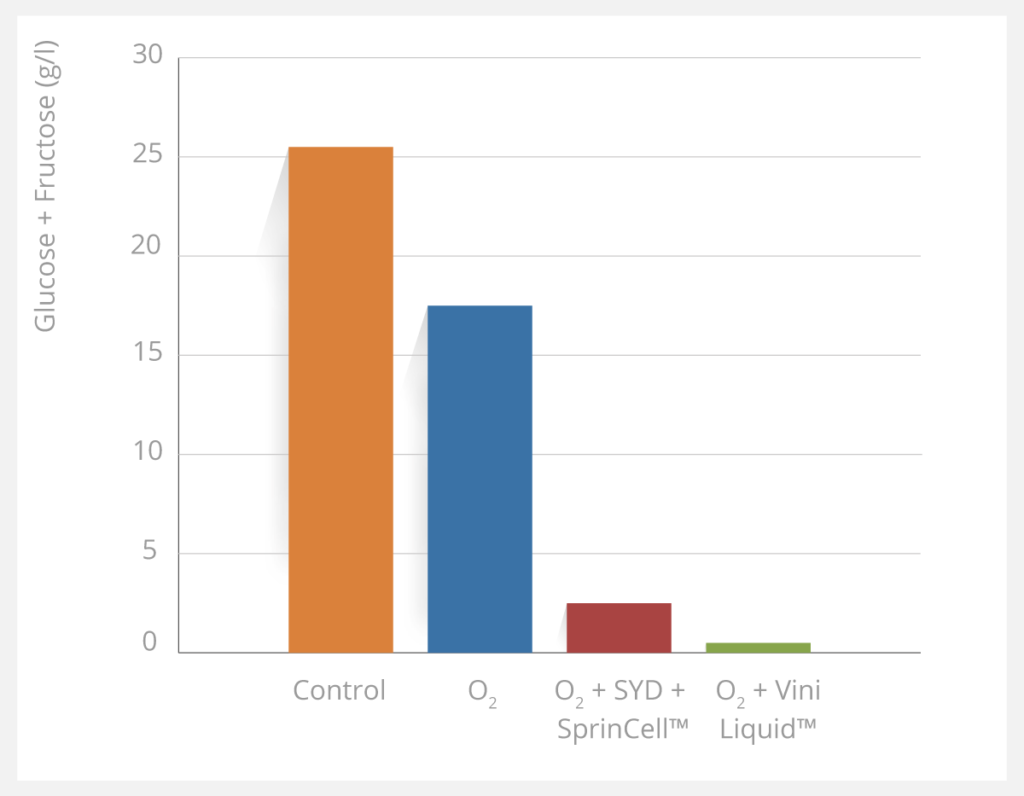 Residual sugars after 238h of fermentation
The graph above shows that after 238h of fermentation, the combination of O2 and ViniLiquid™ led to a fully complete fermentation (0.50g/l of residual sugars) and clearly illustrated that in this must, O2 supply alone was not sufficient to achieve the fermentation whereas the combination with dry yeast derivatives achieved fermentation a bit later.
On this yeast viability graph, the addition of nutrients shows an effect on yeast population, with one stand-out winner: ViniLiquid™ which generates a surge in yeast population, whereas other nutrients yield only weak results.
ViniLiquid™, like much of Fermentis' yeast derivative range, is E2U™ certified, meaning it's very easy and safe to use.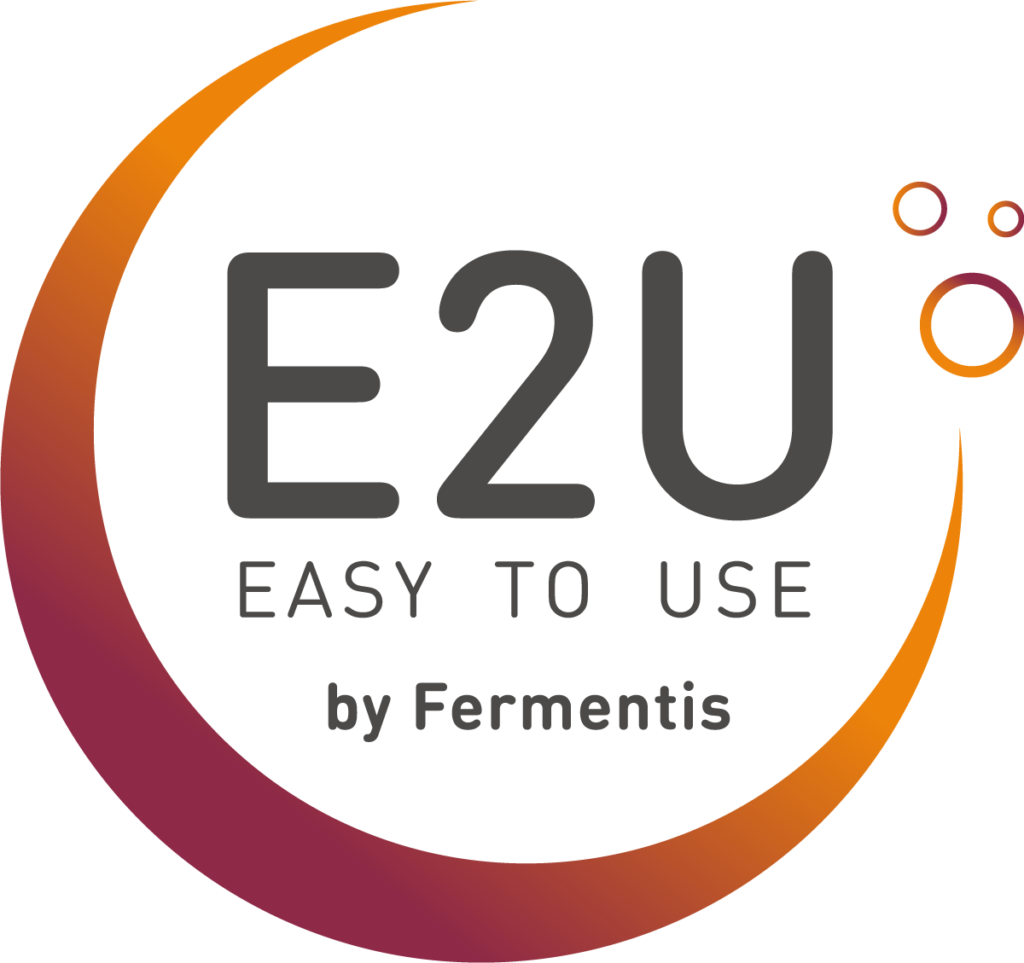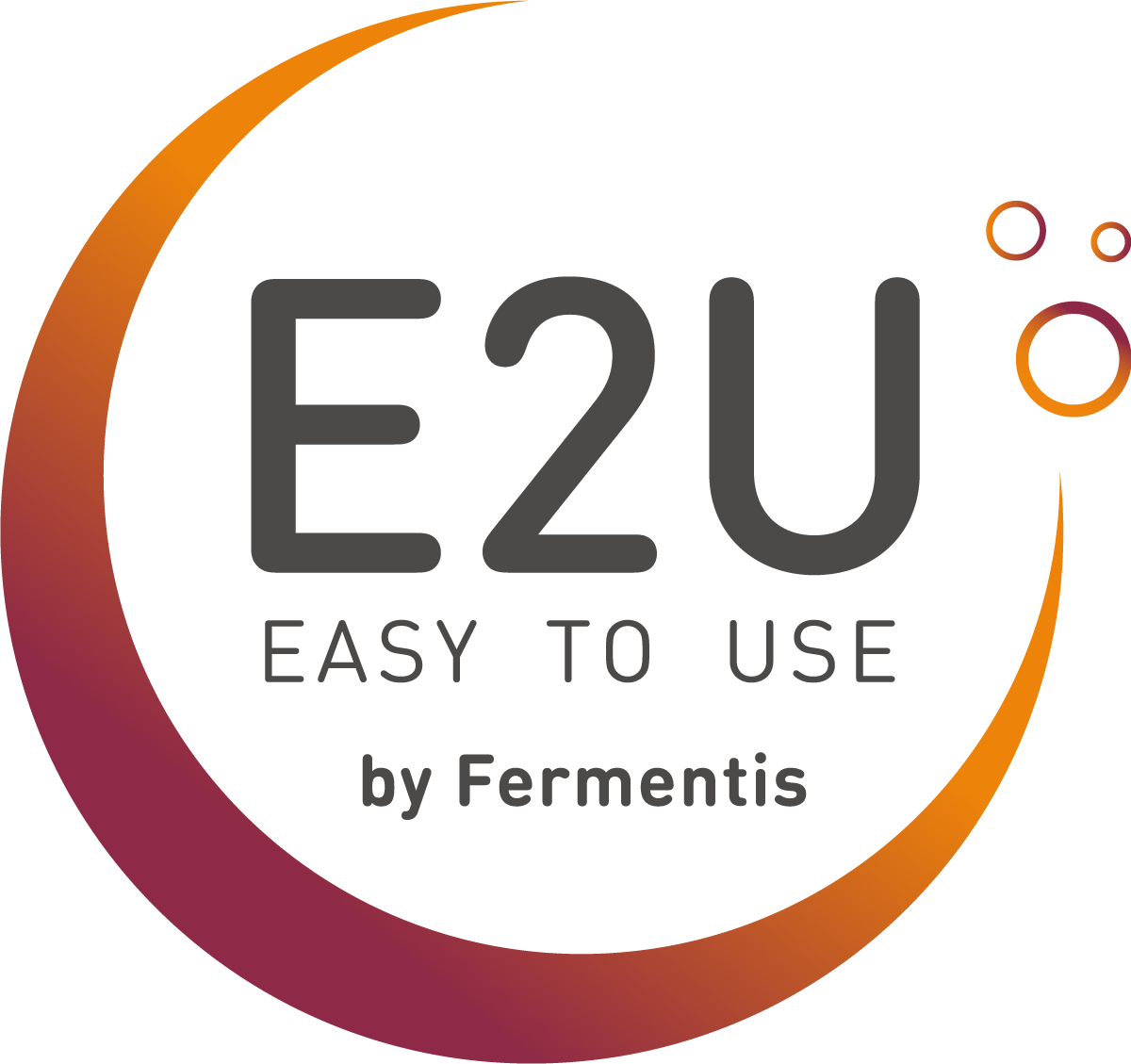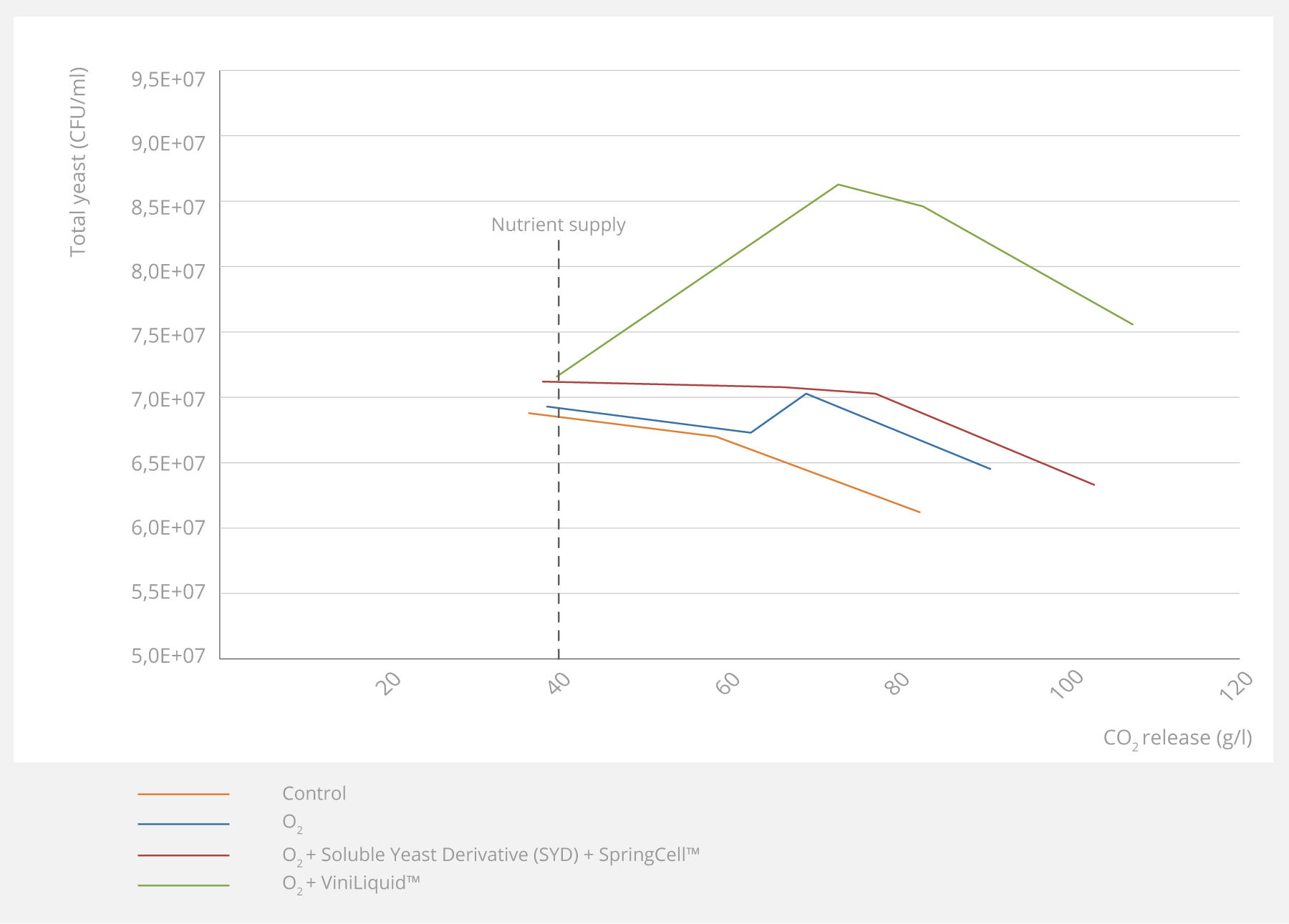 Yeast viability
Gros Manseng must (Potential ABV: 13.5%, pH 3.1 and initial YAN: 115mg/L).10mg/l O2 at Smax, then equivalent supply of 35mg/l of YAN and 19.2g/hl of hulls through ViniLiquid™ single addition or mix of soluble yeast derivative and SpringCell™ yeast hulls addition at 1/3rd of the fermentation advancement. Yeast used: SafŒno™ CK S102.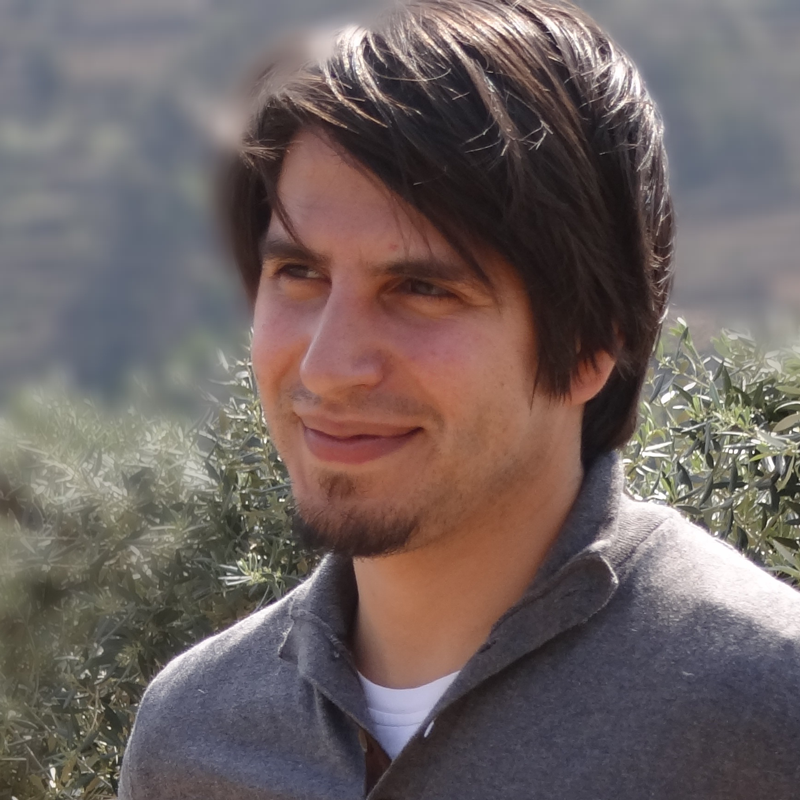 Tiago Alves de Sousa
Alves de Sousa Wines
What the users think
With Tiago Alves de Sousa, winemaker at Tiago de Sousa wines, Portugal
"It helped to guarantee a more robust yeast population, leading to very consistent and progressive fermentations and therefore giving us much more control over how we want our fermentation to develop. Naturally, this will help also to preserve very bright, clean and pure flavours. And in a few varieties aromatically more neutral, the free amino acids content also helped to make the juices a bit more expressive but still respecting the grape's character. The results are very consistent, it's a good tool, especially when you know that your fermentation conditions can be challenging. The liquid form is also a great bonus – during harvest time every little help, every little detail matters, so being easier and faster to measure and apply always saves us time that we can dedicate to all the other things we have to do."
Read the full review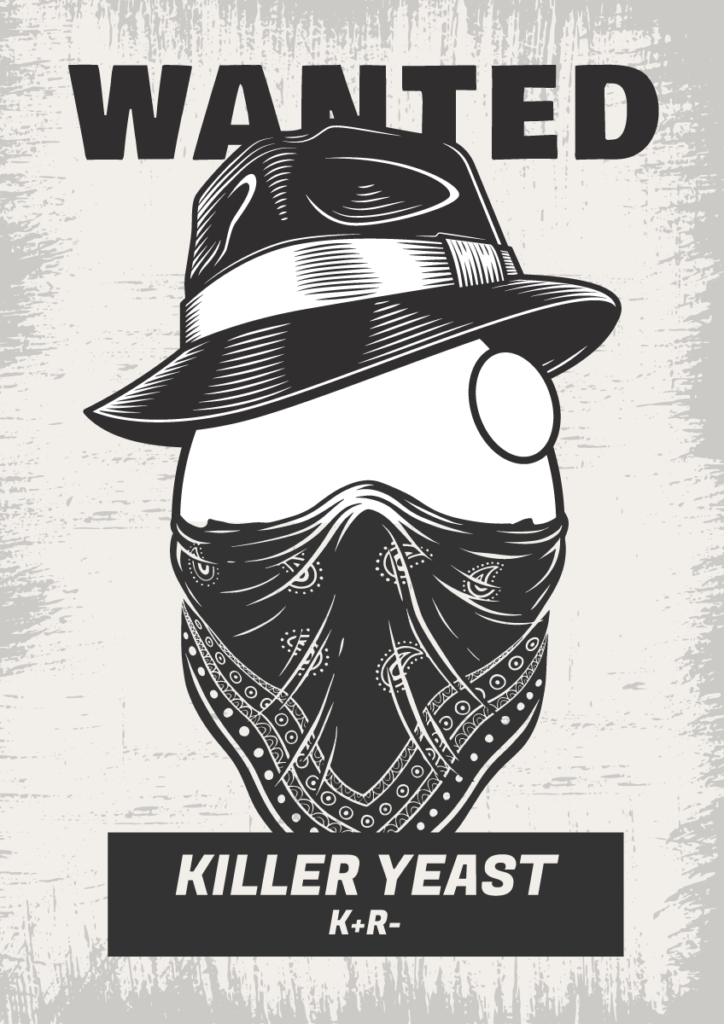 In a lot of documentations about wine yeasts, you will probably find an information about their "Killer" status… scary indication isn't it? Let's talk a bit about the meaning of this status – which seems like it was taken straight from a thriller movie!
Certain yeast strains can effectively produce and excrete proteins that are toxic for other strains. These proteins will bind to a specific receptor located on the surface of the cell wall and slowly induce the death of the affected strain.
There are 3 common types of strains: "Killer" ones which secrete the toxin and don't possess its receptor (K+R-), "Sensitive" which don't secrete the toxin but can bind to it (K-R+) and "Neutral" which neither excrete nor bind (K-R-).As several toxins exist, in the wine world we almost always talk about the "K2" toxin when referring to the killer factor as this protein expresses its activity at wine pH (2.8-4.8).
However, the ratio between Killer and Sensitive strains – in order to move the population towards the predominance of Killer strains in winemaking conditions – is highly variable, from 1/1000 to 25/1!
The efficiency of the toxin depends on several parameters including temperature (thermo-sensitive) and pH (inactive below 2.9) which are the most important and can also be affected by the presence of polyphenols or additives.
But above all, the strains themselves show very different killer activity or sensitivity degrees…
Anyhow, even if it is highly variable, it is generally recognized that the possession of this killer factor gives a better chance of implantation of said strain into the must and that is why it is something we rather look for when selecting wine yeast….
And we haven't even mentioned the "suicide" strains (K+R+) which secrete toxins that can affect themselves… but that's another story !
Fermentis would like to thank ATPGroup, Berryessa Gap Vineyards, Sameca PQ, Alves de Sousa family wines, HTS Enologia, Borgo Molino and Colesel Spumanti for their kind contributions to this first edition of the GOODNEWS Online