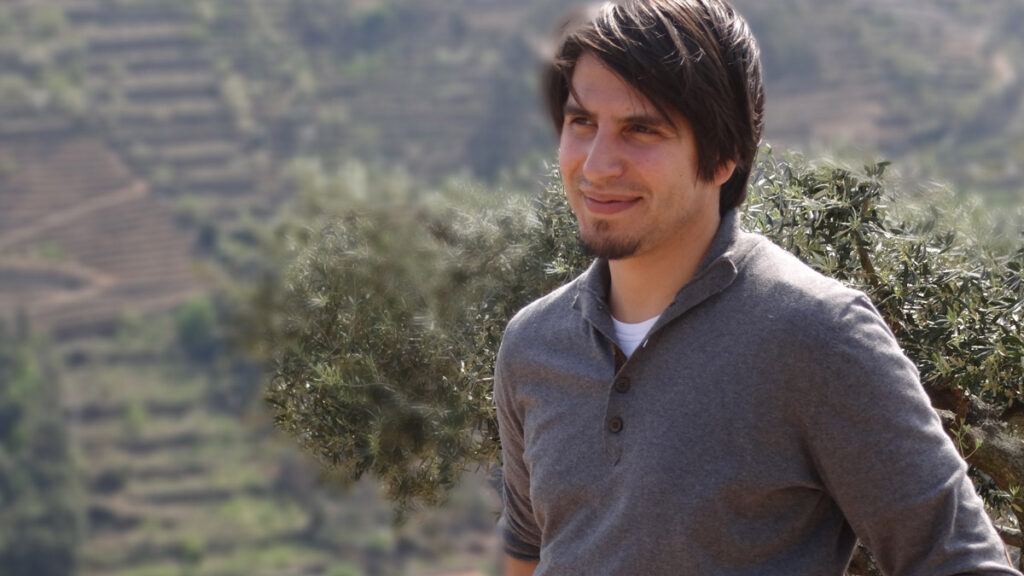 With Tiago Alves de Sousa, Alves de Sousa family's Douro & Port Wines
Tell us a few words about yourself and your wines:
Born in a family with strong roots in the Douro Valley and a long winegrowing tradition, to Tiago Alves de Sousa the land appeal was listened from a tender age. With a degree in Agricultural Engineering by the University of Trás-os-Montes e Alto Douro, he was distinguished with the award Foundation "António de Almeida" and with a special distinction by the Portuguese government for being the best student of the degree.
After some periods of harvest training, collaborating with consecrated winemakers such as Manuel Vieira, Luís Cabral de Almeida and Anselmo Mendes, complemented with studies of winemaking and viticulture and a passage in the Institute of Viticulture of the Università Cattolica de Piacenza (Italy) where he collaborated with the reputed Professors Mario Fregoni and Luigi Bavaresco, he joins definitely Alves de Sousa's winemaking team in 2002.
For some years he accumulated the work at the Alves de Sousa's winery with a PhD in Viticulture & Œnology at the University of Trás-os-Montes e Alto Douro, which was concluded in 2011 with maximum classification. He has several publications about Viticulture and Œnology in international scientific magazines and in conference proceedings, being often invited to give lectures in Portugal and abroad. Tiago is also often judging in some of the most important international wine competitions (UK, China, Portugal, Germany, etc.).
Today he's responsible for the winemaking of all the Alves de Sousa family's Douro & Port wines. Since Tiago became the winemaker, the Alves de Sousa family won the award "Producer of the Year" in 2006, received more than 300 medals in the most prestigious international wine competitions and had some of the highest ratings ever of Portuguese wines in the most important international publications. In 2016 Tiago was invited to become a member of "Fórum de Enólogos" (Winemakers Forum), an exclusive wine club that gathers the most prestigious Portuguese Winemakers.
In 2017 Tiago was distinguished with the "National Winemaker Award" by the Fraternity of Algarve's Gastronomists, an award held only every two years, distinguishing the persons that have contributed to the elevation of Wine and Gastronomy in Portugal and Europe. A very special distinction on the same year of a double nomination for the awards "Winemaker of the Year" (by magazine "Wine – A Essência do Vinho") and "Winemaker Generation XXI" (by magazine "Paixão pelo Vinho" ), adding also on the same year nominations on two of the most important Portuguese wine publications.
A triple recognition of a very special year for the work of Tiago Alves de Sousa in the Douro & Port wines of the Alves de Sousa family.
He's also responsible for the exports and for the promotion of the wines all over the world.
Tiago is one of the members of the 5th generation of the Alves de Sousa family.
When did you first start using ViniLiquid?
First trials in 2016 and in bigger scale in 2019.
Tell us the story of why you came to use ViniLiquid, what challenges were you facing?
In the Douro valley, we have extraordinary conditions for winemaking but also some challenges – the soils are very poor, the vineyards are often under water deficit conditions, it's a relatively warm climate, all leading to a great concentration in the berries. So the musts may be of great quality potential but often with low nitrogen levels and sometimes with high sugar content.
So there may be risks of stuck fermentations or some metabolic deviations.
In what ways does ViniLiquid improve your winemaking process?
It helped to guarantee a more robust yeast population, leading to very consistent and progressive fermentations and therefore giving us much more control over how we want our fermentation to develop.
Naturally, this will help also to preserve very bright, clean and pure flavours.
And in a few varieties aromatically more neutral, the free amino acids content also helped to make the juices a bit more expressive but still respecting the grape's character.
Would you recommend ViniLiquid to someone else and why?
Sure. The results are very consistent, it's a good tool, especially when you know that your fermentation conditions can be challenging.
The liquid form is also a great bonus – during harvest time every little help, every little detail matters, so being easier and faster to measure and apply always saves us time that we can to dedicate to all the other things we have to do.
And, although I should say that it's expensive … I have to admit that it's not that bad in terms of quality/value 😉